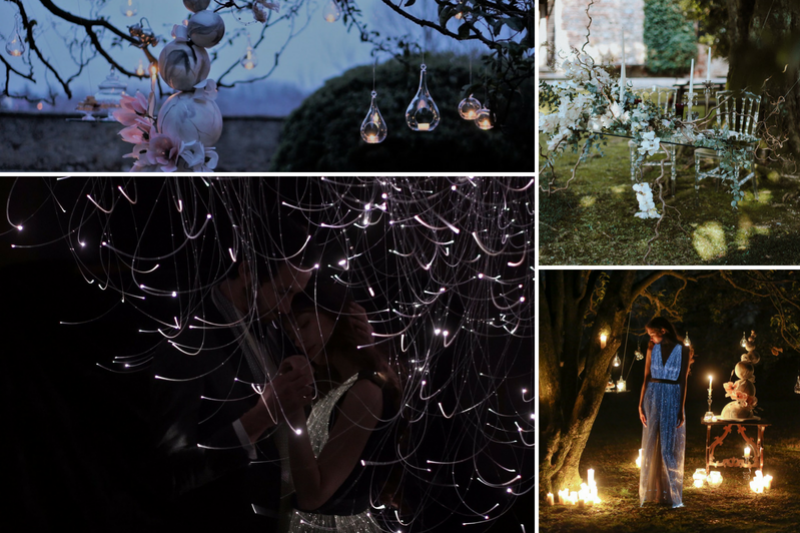 "The Gravity of Love"
Il Castello di Jerago protagonista dello Shooting da sogno su Wedding Wonderland
18 June 2018
Il Castello di Jerago è stato protagonista dell'inspiration shoot pubblicato da Wedding Wonderland "The Gravity of Love" in grado di fermare il tempo, di dilatarlo verso l'infinito e l'eterno, "un percorso surreale che a tratti sembra superare la forza di gravità".
Lo shooting racconta una storia dove predomina l'amore senza confini spazio-temporali, con un matrimonio organizzato dallo sposo, due splendidi abiti da sposa, una grotta rischiarata da una costellazione di candele e un tavolo per due sospeso.
La sorpresa, l'incredulità che nasce dallo scenario del Castello sapientemente plasmato dove ogni dettaglio vacilla fra la realtà e una dimensione a sé stante, quasi immobile ed eterna, permea ogni scatto.
Anche noi, come la sposa, tratteniamo il respiro per la meraviglia mentre si fa sera e le stelle sembrano scendere ad avvolgerci in un sogno ad occhi aperti...
Un ringraziamento ad Amour sans Mesure di Michela Lopilato che ha reso possibile questo sogno..
Concept, styling and planning: Amour sans Mesure
Venue: Castello di Jerago
Bride's dresses: Francesca Piccini
Groom's Suit: Area2 Showroom
Photographer: Andrea Calvano - Wedding Photography
Videographer: Wedding Reel - video matrimoni
Flower Designer: Caterina Maurini
Lighting: Elena Corbella
Stationery & Calligraphy: Beautiful Letters
Wedding Cake: Sweetmama
Topper Cake: Le bianche margherite
acconciatura e make up Muah: Elena Gentile Muah
Models: Silvia Bandera e Riccardo Stellini
A presto
Staff del Castello

Scrivici!